I've always loved sport. I grew up with it from a young age. Football mainly. At school my best subject was mathematics. When I realised in my teenage years you could combine these two I was hooked immediately.
In my mid twenties I took a job working for my friend in his internet start up. In my spare time I quickly took my new skills and started building my own betting website. 2 years after working evenings and weekends on my project I had a trickle of income, enough to quit my well paid job, move back into my parents attic and have a crack at turning my passion into a business.
There's no denying I got lucky. It came at a time when there were very few competitors and no social media to worry about. Blissful ignorance to the world around us. At first I just created a betting guide with links to bookmakers, casinos and poker rooms.
However my passion was always sports betting and I soon delved into the world of tipping. I remember one weekend backing Fiorentina to win a home game at odds of around 1.4. I couldn't see how they could lose. They did! 4-1 in fact. That was the moment I knew I needed to bring in some more tipsters.
At first every time one of my tipsters posted a tip I placed a £10 bet on their behalf. A bold strategy and whilst it worked at first it soon proved costly. That evolved to the idea of a tipster competition with prizes for the best tipsters. At this point all tips were sent to me via email and I had to quickly add them to the site.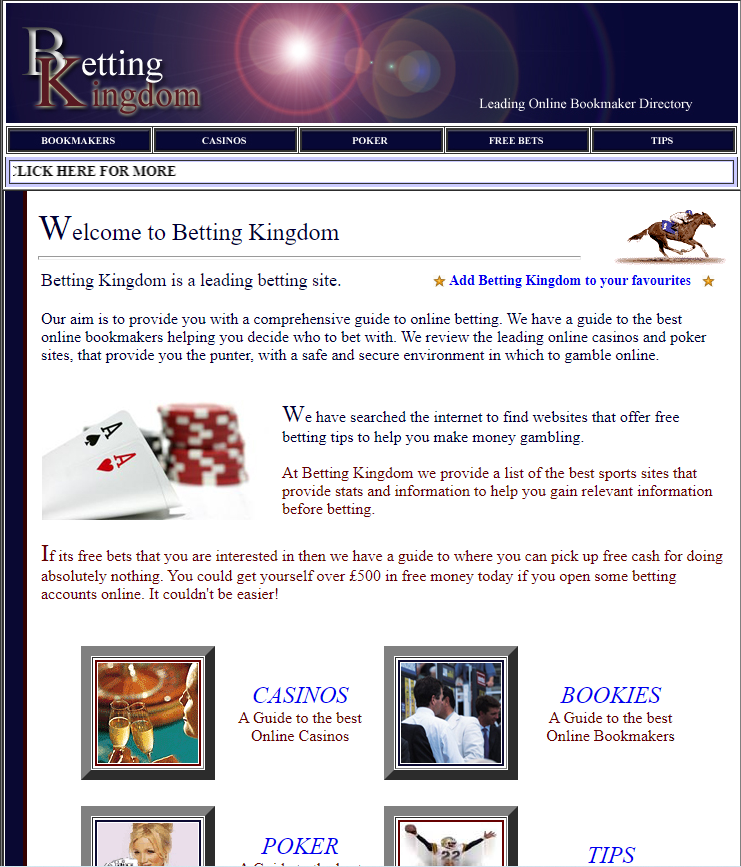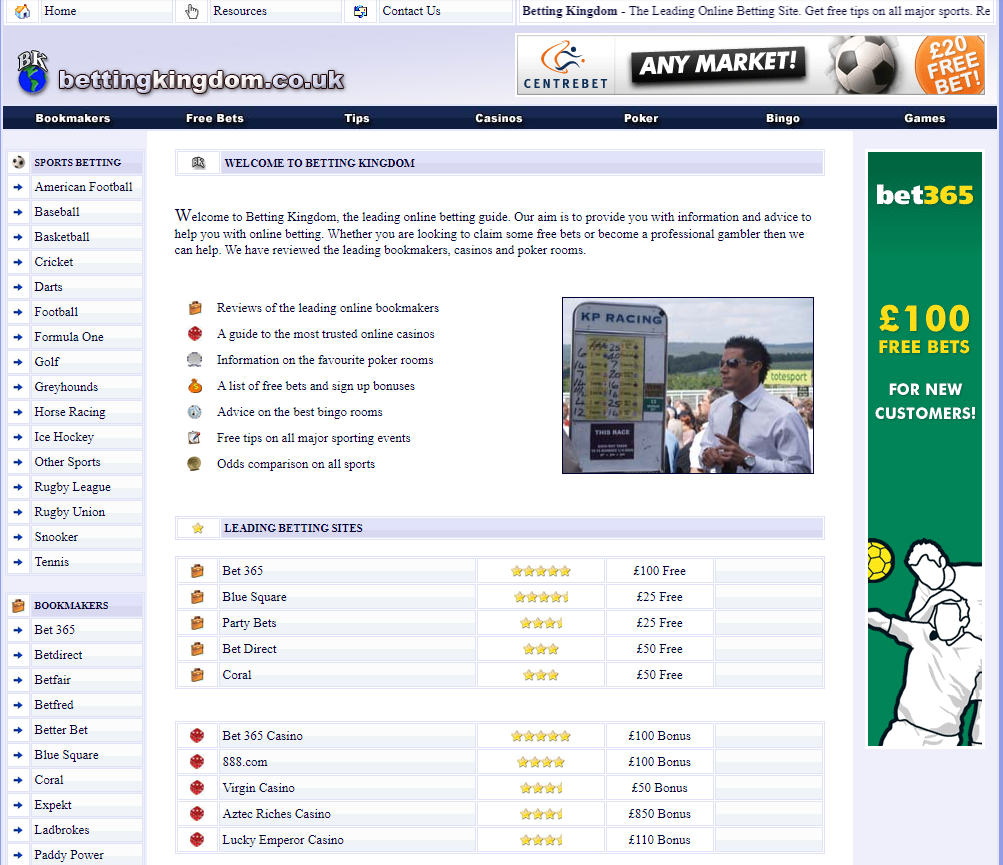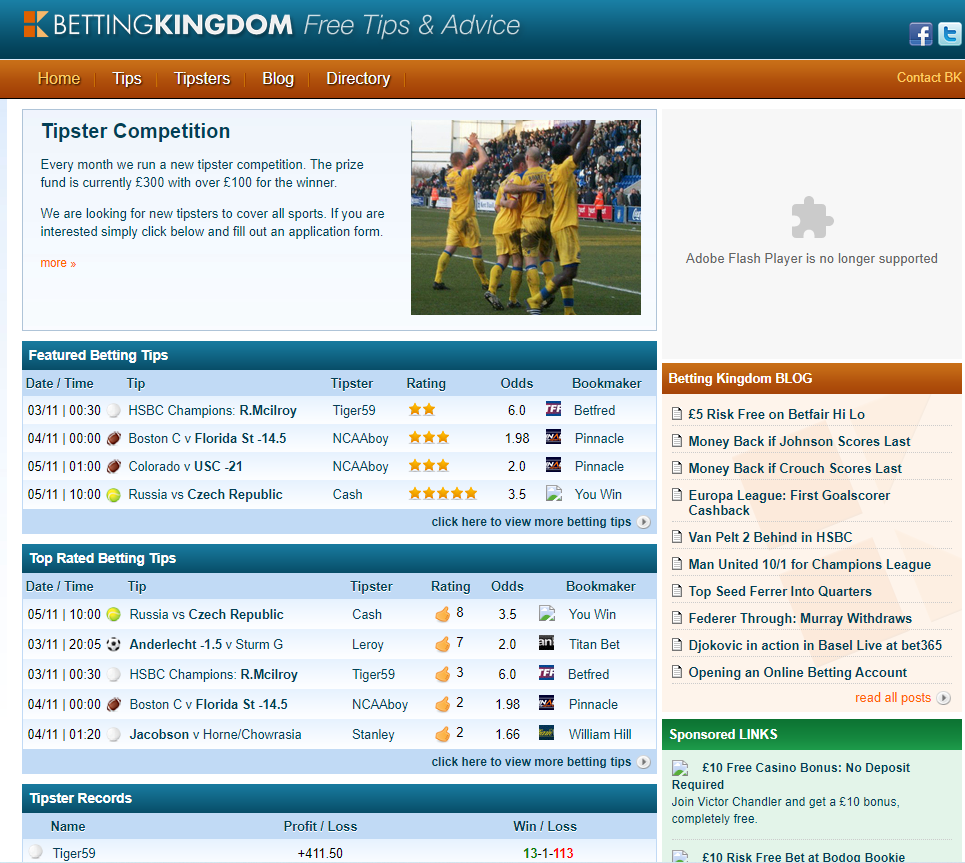 I then took my next gamble. Hiring a web developing company in Brighton to help automate my site. It cost a fortune, but proved worth it as for a few years business picked up, traffic soon followed and tipsters came a flocking. There was a real buzz about the site.
Two things changed that. Twitter gave tipsters an easy outlet for sharing their tips. Granted they weren't winning any prizes, but it does give a wider reach. Then came the national press slagging off betting affiliates. 
Betting Kingdom has always made money through commission. Money that is made through punters losses. But I've taken that commission and always invested it back into the site and the tipster competition. Who would you rather have that 30%? The bookmaker or a site like Betting Kingdom reinvesting it for the benefit of tipsters? 
I've certainly never deliberately offered bad advice to ensure punters lose. Despite what some paid tipsters would like you to believe there are genuine and honest free tips site like mine who want to help you win. The truth being, no matter how good the tips offered, punters will follow their own opinion, turn singles into doubles and trebles, and ultimately struggle to make a profit. That allows a site like Betting Kingdom to offer free tips and still generate commission.
The damage was done though. Sign ups fell off a cliff and slowly but surely the site started to struggle. Covid just added to the problems and it's been a real struggle in recent yeas. It's definitely effected my mental health. Working tirelessly to try and make a business work only to see it struggle.
I'm having one last crack to try and make Betting Kingdom work. All the content going forward will be provided by me. My primary goal is still to create a website where punters can find good insight that will help them win money on sports betting. 
I'll be sharing my "Best Bets" on major sporting events. These are bets I pick up from podcasts and reading previews from other tipsters. Sometimes I will use tips shared by other tipsters, but in this instance I will always credit them for their work.
I also hope to build a comprehensive guide offering reviews of the best sports betting tipsters. I then plan to produce some tipster rankings to help punters find the best services for them to follow.
Punters can also leave their own reviews of tipster services to help with the rankings and assist other gamblers in making wise choices.
I hope to introduce a "Betting Advice" section where I can share everything that I have learned over the past 25 years. I will try and keep you up to date with the best free bets and bookmaker offers on the latest sporting events.
There will be bookmaker reviews as well as a guide to other useful resources that have helped me on my own betting journey. In time I may also introduce a guide to the best casinos, poker rooms and bingo sites. The ultimate aim to provide a complete online betting guide to all forms of gamblers. That may be some way in the future though.